In a world of increasingly digitized connections, phone sex has become an irresistible way to explore intimacy and unleash your deepest desires. Whether in a long-distance relationship or simply looking to spice up your sexual encounters, engaging in phone sex can be an exhilarating and pleasurable experience. But here's the burning question: "What to say during phone sex?"
Fear not, dear reader, for we have embarked on a compelling journey to uncover the secrets of phone sex dialogue. From seductive whispers to imaginative scenarios, this blog post will equip you with the tools to ignite passion through the telephone lines. So sit back, take a deep breath, and prepare to delve into the art of verbal seduction as we reveal what to say during phone sex. Get ready to leave your inhibitions behind and tap into your inner seductress or seducer—let the adventure begin!
The Importance of Verbal Communication in Phone Sex: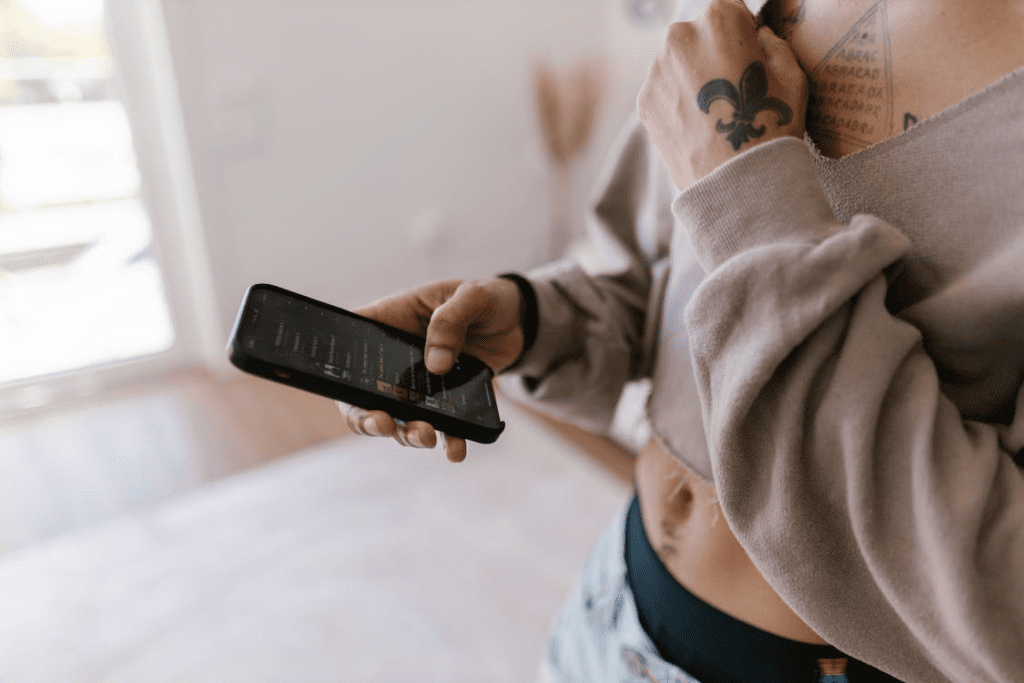 A. The power of words: Creating a sensual atmosphere
When engaging in phone sex, your chosen words can create a sensual atmosphere. You can use seductive language, compliments, and descriptive phrases to set the mood and enhance the experience for both you and your partner.
B. Building anticipation: Setting the mood with your voice
During phone sex, your voice becomes the primary tool for building anticipation and setting the mood. You can use a tone of voice that conveys desire, excitement, and anticipation to heighten the experience. Whispering or speaking softly can be particularly effective in creating an intimate atmosphere.
C. Deepening intimacy: Expressing desires and fantasies
Verbal communication during phone sex allows you to express your desires and fantasies to your partner, which can deepen intimacy and create a stronger connection. Sharing what you want and what turns you on can help both partners explore their sexual interests and create a fulfilling experience.
Preparing for Phone Sex: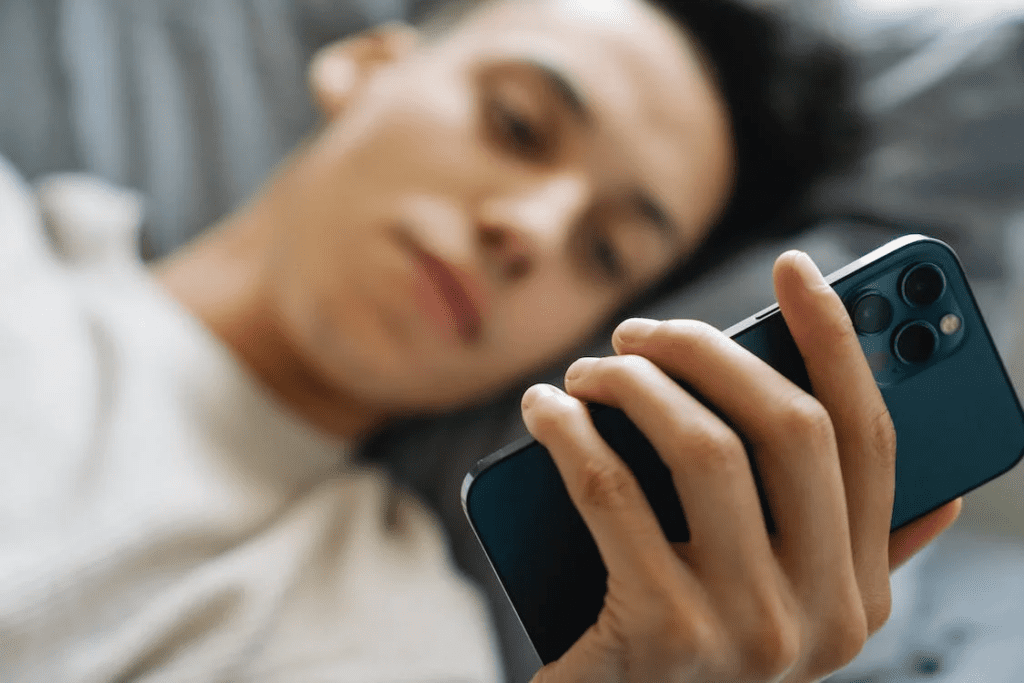 A. Creating a comfortable environment: Choosing the right time and place
Before engaging in phone sex, it's important to create a comfortable environment. Choose a time and place where you can have privacy without interruption. Being relaxed and comfortable can help you feel more at ease and confident in expressing yourself verbally.
B. Setting the mood: Creating a sensual ambiance
Setting the mood is crucial for a satisfying phone sex experience. You can create a sensual ambiance by dimming the lights, playing soft music, or using other sensory elements that enhance the atmosphere. This can help you get in the right mindset and make finding the right words to say easier.
C. Discussing boundaries and consent: Establishing mutual understanding
Before engaging in phone sex, you must converse with your partner about boundaries and consent. This ensures that both parties feel comfortable and respected during the experience. By establishing clear boundaries and discussing what is and isn't acceptable, you can create a safe and enjoyable environment for both of you.
Building Sexual Tension with Words:
A. Sensual compliments and praises: Heightening desire
Sensual compliments and praises during phone sex can heighten desire and make your partner feel desired and appreciated. Expressing admiration for their physical attributes or describing the pleasure they give you can contribute to building sexual tension and intensify the experience.
B. Expressing fantasies and desires: Inviting exploration
Sharing your fantasies and desires with your partner during phone sex can create an atmosphere of exploration and adventure. By voicing what you want and inviting your partner to do the same, you can discover new avenues of pleasure together and keep the excitement alive.
C. Erotic storytelling: Engaging the senses and creating vivid imagery
Engaging in erotic storytelling can be a powerful way to enhance phone sex. Using descriptive language and vivid imagery, you can paint a picture for your partner and engage their senses. This can make the experience more immersive and heighten the arousal for both of you.
Active Listening and Responsiveness:
A. Reacting to partner's words: Genuine enthusiasm and encouragement
Active listening and reacting to your partner's words with genuine enthusiasm and encouragement is crucial during phone sex. Let your partner know that you are fully engaged and enjoying the experience. Responding to their verbal cues and expressions of pleasure can create a feedback loop that enhances your connection.
B. Asking open-ended questions: Inviting deeper sharing and connection
Asking open-ended questions can invite deeper sharing and connection during phone sex. It encourages your partner to express themselves more fully and can lead to a more intimate and fulfilling experience. You demonstrate your genuine interest in their desires and needs by showing curiosity and actively engaging in the conversation.
C. Providing verbal cues: Expressing pleasure and satisfaction
Providing verbal cues such as moans, sighs, and words of satisfaction can enhance the experience for both partners. It lets your partner know that you enjoy their words and actions, creating a sense of validation and excitement. Verbal cues can also act as guidance, helping your partner understand what pleases you.
Experimenting with Different Scenarios and Roleplay:
A. Embracing different personas: Exploring new identities
Phone sex provides an opportunity to explore different personas and adopt new identities. You can engage in role play scenarios where you and your partner take on different characters, allowing you to explore fantasies and engage in exciting and creative interactions.
B. Incorporating power dynamics: Dominance and submission play
Exploring power dynamics, such as dominance and submission play, can add excitement and intensity to phone sex. You can use specific language and roleplay scenarios that involve power exchange to create a thrilling and satisfying experience for both partners.
C. Engaging in scripted roleplay: Adding excitement and creativity
Engaging in scripted roleplay scenarios can add excitement and creativity to phone sex. You and your partner can create scenarios together or use pre-existing scripts as a starting point. This allows you to step into different roles and explore scenarios that align with your desires and interests.
Expanding Your Vocabulary of Desire:
A. Using sensual adjectives: Describing sensations and emotions
Expanding your vocabulary of desire involves using sensual adjectives to describe sensations and emotions. Finding new and evocative words to express your desires can enhance the experience for yourself and your partner. Describing how something feels, tastes, or sounds can create a more immersive and passionate encounter.
B. Dirty talk and explicit language: Communicating passion and intensity
Dirty talk and explicit language can communicate passion and intensity during phone sex. It involves using sexually explicit words and phrases to express desire and arousal. However, it's essential to ensure that both you and your partner are comfortable with this level of explicitness and to respect any boundaries that have been established.
C. whispers and moans: Enhancing intimacy and arousal
Whispers and moans can enhance intimacy and arousal during phone sex. They convey desire and pleasure in a way that words alone may not capture. By using these sounds strategically, you can create a deeper sense of connection and heightened excitement.
Overcoming Shyness and Building Confidence:
A. Embracing vulnerability: Trusting your partner and yourself
Overcoming shyness during phone sex involves embracing vulnerability and trusting your partner and yourself. Opening up and expressing your desires requires a level of trust and confidence. Remember that your partner is also participating willingly and likely excited to hear what you say.
B. Practice makes perfect: Experimenting with solo sessions
Building confidence in phone sex can be achieved through practice. Experimenting with solo sessions can help you explore your desires, discover what turns you on, and become more comfortable expressing yourself verbally. The more you practice, the more confident you will communicate your desires to your partner.
C. Accepting imperfections: Embracing the beauty of genuine connection
Accepting imperfections is important when it comes to phone sex. Not every word or phrase may be perfect, but the beauty of phone sex lies in the genuine connection and intimate experience it creates. Embrace the moment's authenticity and understand that the connection between you and your partner truly matters.
Navigating Consent and Boundaries:
A. Continuous communication: Checking in with your partner
Navigating consent and boundaries during phone sex requires continuous communication. It's important to check in with your partner throughout the experience to ensure that both of you are comfortable and that boundaries are respected. Consent can be reaffirmed by asking if certain actions or words are acceptable and adjusting accordingly.
B. Establishing safe words: Ensuring comfort and respect
Establishing safe words is essential to ensure comfort and respect during phone sex. Safe words are a clear signal to pause or stop the interaction if anyone feels uncomfortable or needs a break. Agreeing on a safe word beforehand demonstrates a commitment to each other's well-being and allows for a safer and more enjoyable experience.
C. Respectful endings: Post-phone sex debrief and care
After engaging in phone sex, it's important to have a post-session debrief and show care for each other. This can involve discussing the experience, expressing gratitude, and checking each other's emotional well-being. Taking the time to connect and ensure that both partners feel supported and valued reinforces the importance of respect and care throughout the entire experience.
FAQs
Q: What should I say during phone sex?
A: During phone sex, it's important to communicate your desires, fantasies, and what you find pleasurable. You can use explicit language, describe intimate scenarios, and role-play to enhance the experience.
Q: How do I initiate dirty talk during phone sex?
A: To initiate dirty talk during phone sex, start by setting the mood with compliments and expressing your attraction to your partner's voice or appearance. Gradually transition into more explicit language, describing what you want to do or want them to do to you.
Q: What if I feel shy or unsure about what to say during phone sex?
A: It's completely normal to feel shy or unsure about phone sex. Start by discussing your boundaries and comfort levels with your partner. You can also explore erotica or read stories together to get ideas. Remember, the most important thing is to communicate openly and honestly with your partner and only to say what feels comfortable.
Conclusion:
In conclusion, when it comes to what to say during phone sex, it's important to consider the power of words, building anticipation, expressing desires and fantasies, preparing for the experience, building sexual tension, active listening, experimenting with scenarios and roleplay, expanding your vocabulary of desire, overcoming shyness and building confidence, as well as navigating consent and boundaries. Remember to communicate openly with your partner, respect each other's boundaries, and prioritize mutual consent and comfort throughout the experience.